As an official Karen Pryor Clicker Training Affiliate, you will earn a sales commission on the purchases of every customer you refer to us. The program is powered by Refersion, an affiliate technology provider. All you need is a website, blog, Podcast, or social media channel (Facebook, Instagram, YouTube, Twitter) that reaches pet owners! We do the rest. It's fast and easy.
Join our free Affiliate Program for Karen Pryor Clicker Training
What if there was a simple way to generate revenue from your website, emails, and social media channels without the hassle of opening and maintaining an online store? There is. Join Karen Pryor Clicker Training's Affiliate Program and earn commissions on many clicker training products including training gear, books, videos, and more! The program is an excellent way for bloggers, website owners, or anyone with a social media platform to promote Karen Pryor products and generate revenue on the products sold—and our stellar reputation makes it easy! It's free to join and quick to set up.
Apply Now
Frequently Asked Questions about Karen Pryor Clicker Training's Affiliate Program
1. How does the affiliate program work?
Suppose you love the books by Emma Parsons and you recommend them to others frequently. With an affiliate program, you can earn commission revenue from those recommendations. Our affiliate program provides an infrastructure—a complete software system—to make that commission possible.
2. What do I need to participate in the affiliate program?
You can participate if you have any or all of the following: a website, social media accounts, posts, blog posts, or e-newsletters. Affiliate text links, image links, and banners can be seamlessly woven into product discussions, reviews, and recommendations for any or all of your social media platforms (Facebook, Twitter, Instagram, blogs, etc), email newsletters, and website.
3. What makes an affiliate really successful?
Affiliates that generate above-average revenue make use of their most popular channels and incorporate links and banners of products they like. For example, if you are writing about target training using a target stick, you can link to or incorporate one of our target stick banners. Or, if your site includes a list of recommended books on obedience training, you may want to link to or incorporate Hannah Branigan's Awesome Obedience book banner into that section! If you have a section on canine sports, you'll want to place it there, too.
4. How do I know I'll get paid?
Our affiliate program is set up to pay out once a month via PayPal. You will receive notification when your referral's order has been approved (and is in queue for monthly payout). You will also be able to see all approved and denied orders on your affiliate dashboard. Please note that payouts must meet a $5 minimum threshold.
5. What is my commission on sales?
We pay out up to 8% per item sold; some exclusions apply. See exclusions in your affiliate dashboard.
6. What is an example of an affiliate ad?
An ad is a visual call-out of a specific product or group of products. It is especially useful on pages where it relates to the topic you are writing about. Again, context is everything. An ad, like the example below, might be perfect for a page that lists products that you recommend or have reviewed. For example, you might write "I love the new clicker ring! Click on the image below to purchase one direct from KPCT."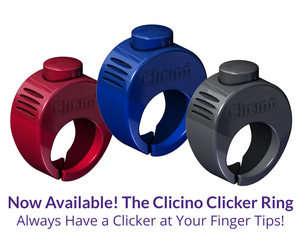 7. What happens if someone clicks through to your site and comes back later to buy or register? Do I still get credit?
Yes. Visits are tracked for 30 days so if someone purchases a product within 30 days of the visit, you'll earn a commission.
8. Can I join more than one affiliate program?
Absolutely. We have an affiliate program and so do others. Affiliating yourself with other trusted companies is a smart policy.
9. Do I need a website to participate in the affiliate program?
No, our program allows the use of creatives and links on your website and/or via other marketing channels. Other channels can include, but are not limited to, social media and email marketing.
10. What products are eligible for commission?
As a Karen Pryor affiliate you will earn commission on all Karen Pryor products with the exception of bulk quantities. For example, a single Treat Pouch is eligible, however, a 6-pk is not. In addition, third party manufacturers are ineligible, such as Blue-9 (Klimb Platform).
11. Is every affiliate application accepted?
As a leader in positive reinforcement training, we want to ensure that our partners share our same values and training philosophies. Applicants who do not meet this criteria will not be accepted.